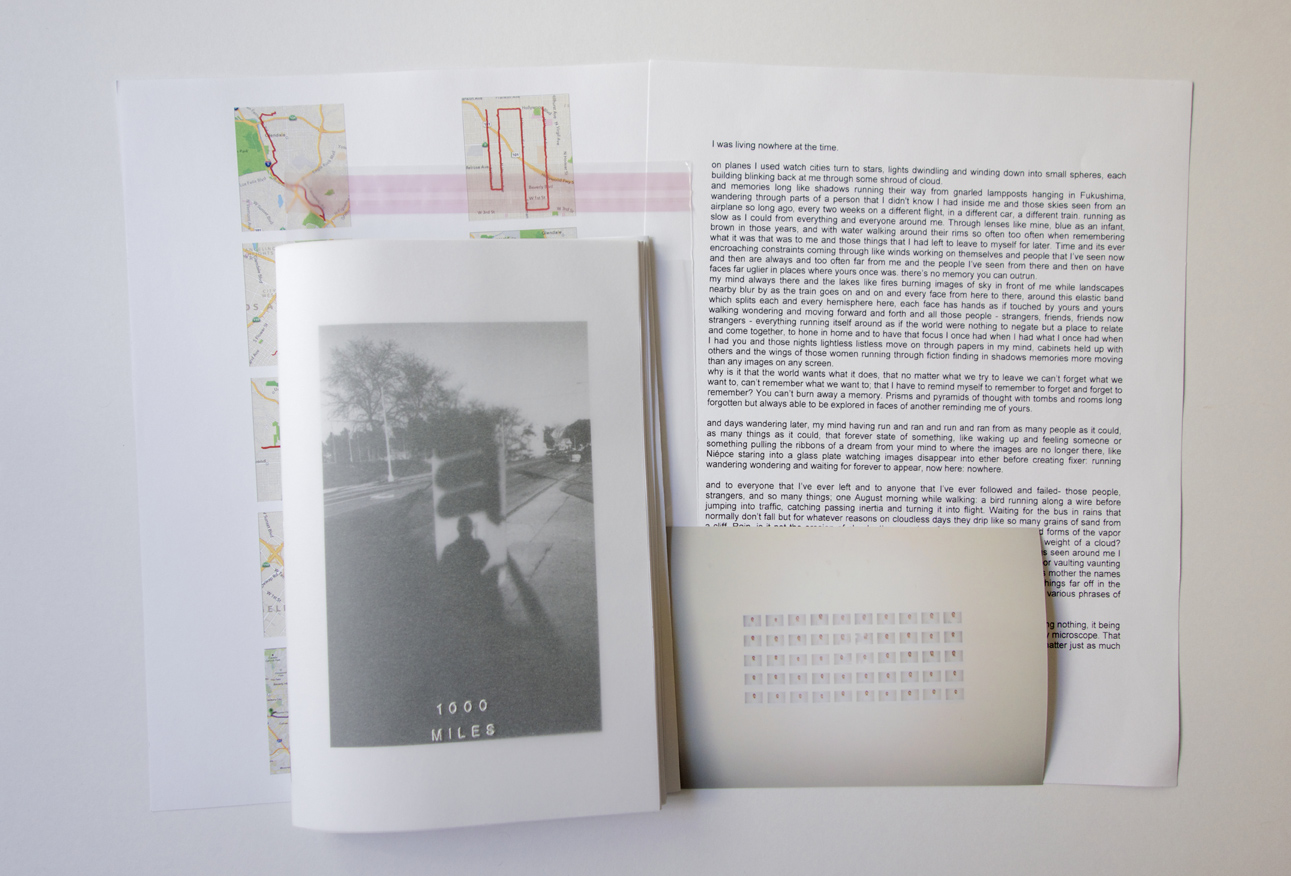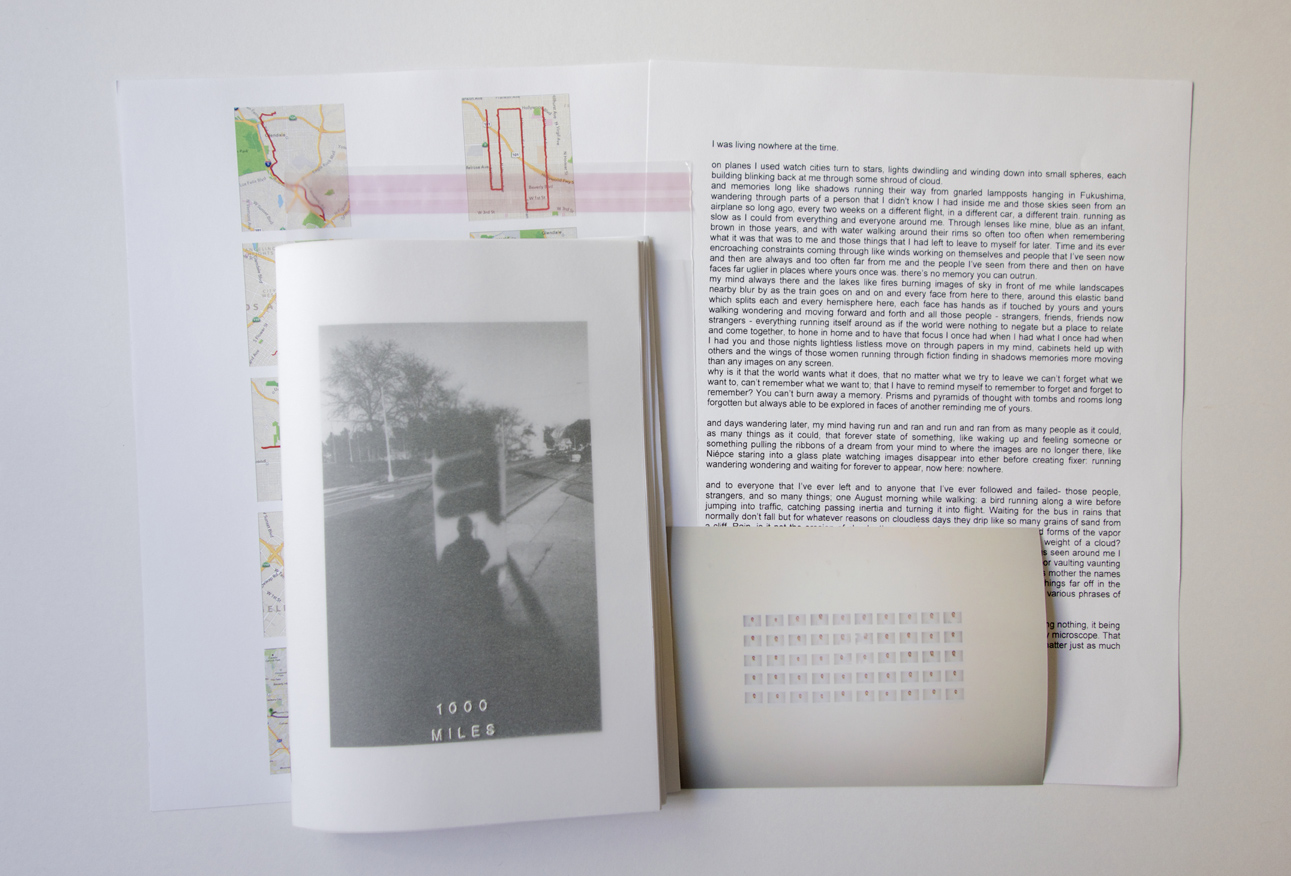 SPECIFICATIONS
5.5" X 8.5"
40 PAGES
TRIPLE-STAPLE BINDING
LASER PRINTED ON HIGH-QUALITY 32lb PREMIUM PAPER
TRANSLUCENT HEAVY-WEIGHT VELLUM COVER WITH EMBOSSED EMBELLISHMENTS ON FRONT AND BACK
13 IMAGE PHOTO-STORY EXCLUSIVE TO THIS ZINE
1 LOOSELEAF GATEFOLD INSERT WITH PROJECT TEXTWORK
1 LOOSELEAF GATEFOLD INSERT WITH ROUTE-MAPS EXCLUSIVE TO THIS ZINE PRINTED IN HIGH-QUALITY COLOR
1 FUJI NORITSU COLOR PRINT EXCLUSIVE TO THIS VOLUME PRINTED ON FUJICOLOR CRYSTAL ARCHIVE PAPER HELD TO THE PAGE WITH ARCHIVAL CANSON PHOTO-SQUARES
SIGNED, STAMPED AND NUMBERED BY THE ARTIST
FIRST EDITION OF 100 + 5 APs ; SPECIAL EDITION OF 10 (DETAILS HERE)
DESCRIPTION
1000 Miles is the culmination of a 100 day performance project Jason Jaworski created in collaboration with MOCAtv where every day he threw a dart at a map of Los Angeles, traced a 10 mile shape and proceeded to traverse its geometry. Dressed in a uniform of all white, each 10 mile journey was documented in a series of images, texts and line paintings. This publication is the first of 10 the artist made during the project. Each book represents 100 miles of the 1,000 mile journey.
A ten volume zine set, as well as a dual folio publication involving the project was put out by SSK Press in 2013 and 2014. The original zines themselves were featured in the 2015 edition of the Museum of Modern Art (MoMA) New Photography exhibition as part of Lele Saveri's The Newsstand installation, as well as being highlighted in the Skira Rizzoli book of the same name.
All editions of the book and series have sold out from SSK Press.
However, the dual folio edition is still available at Dashwood Books in limited quantities here.
ARTIST TEXT
A meditation and inspiration for so many, walking has in it a contradictory complexity, in that it is one of the easiest and most simple forms of movement, yet it allows for a near unequaled depth and sense of feeling from an environment.
From here on forward, for 100 days, I will be dedicating myself to that form of motion and to my working mediums of environment, time, place, thought and memory- walking 10 miles a day, for 100 days, for a cumulative 1,000 miles.
Routes are loose, but will adhere softly to the pre-planned shapes, symbols and portions of whatever sacred geometry I have been able to find while studying the maps and streets of Los Angeles for the past year.
- Jason Jaworski
2015