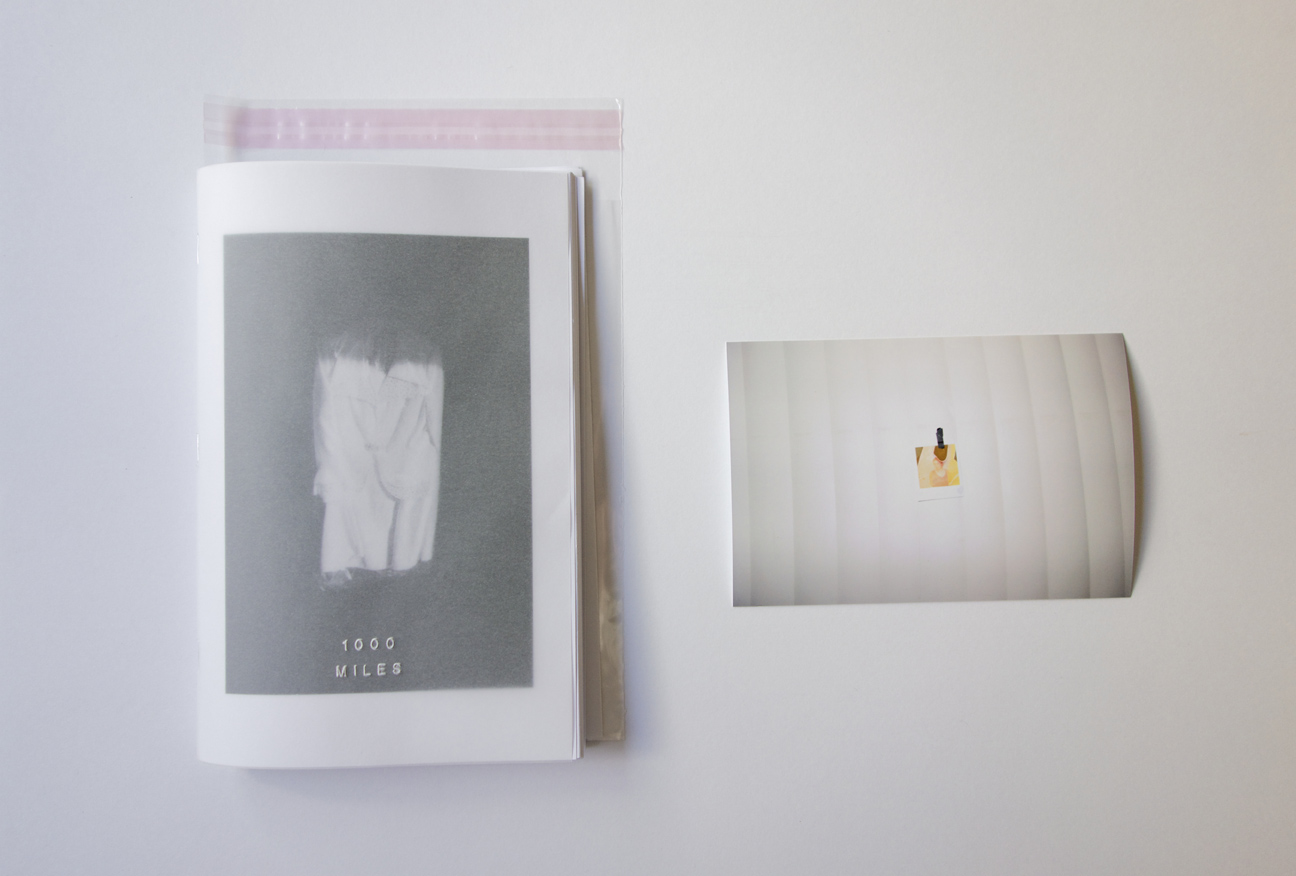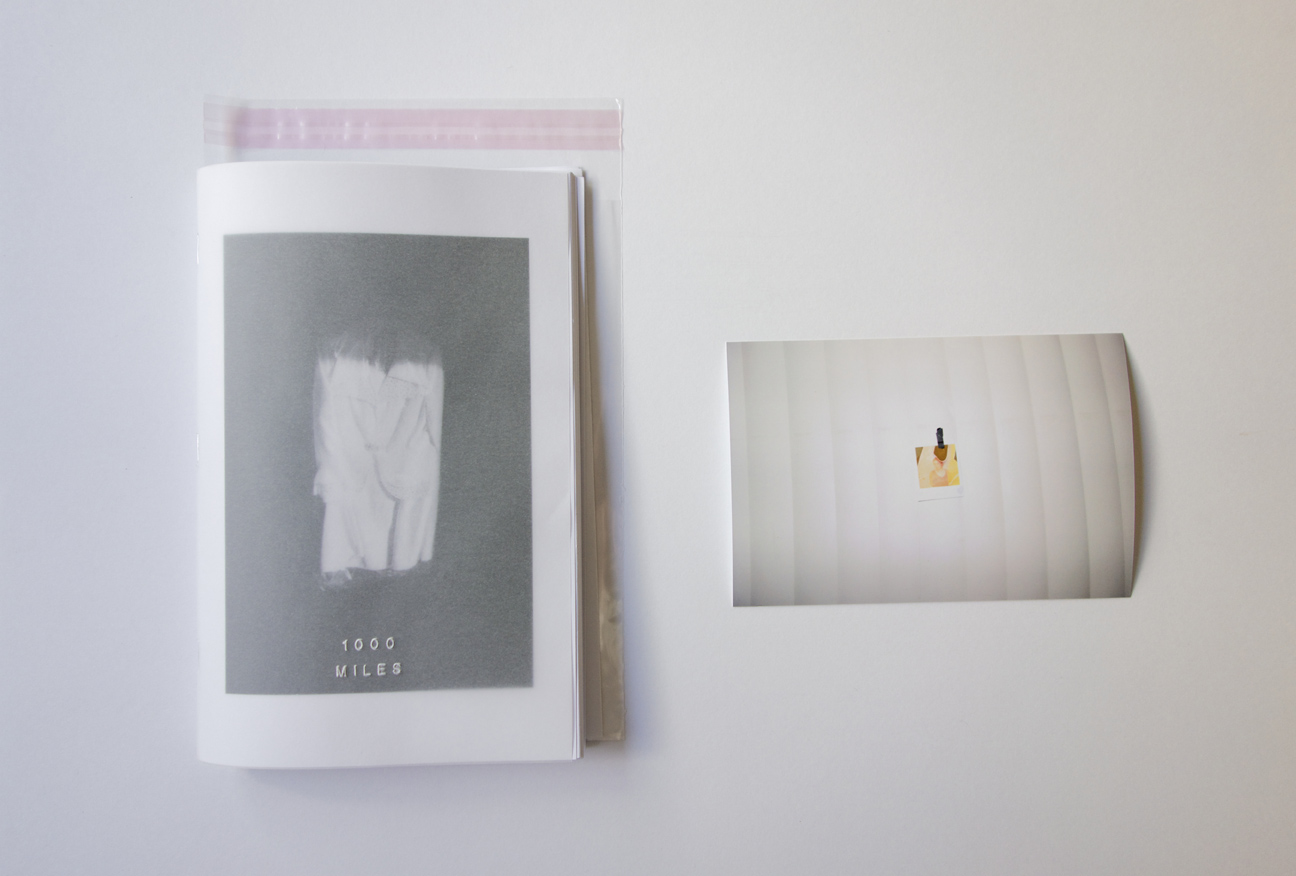 SPECIFICATIONS
5.5" X 8.5"
60 PAGES
TRIPLE-STAPLE BINDING
LASER PRINTED ON HIGH-QUALITY 32lb PREMIUM PAPER
TRANSLUCENT HEAVY-WEIGHT VELLUM COVER WITH EMBOSSED EMBELLISHMENTS ON FRONT AND BACK
29 IMAGE PHOTO-STORY EXCLUSIVE TO THIS ZINE
1 LOOSELEAF GATEFOLD INSERT WITH PROJECT TEXTWORK
1 LOOSELEAF GATEFOLD INSERT WITH ROUTE-MAPS EXCLUSIVE TO THIS ZINE PRINTED IN HIGH-QUALITY COLOR
1 FUJI NORITSU COLOR PRINT EXCLUSIVE TO THIS VOLUME PRINTED ON FUJICOLOR CRYSTAL ARCHIVE PAPER HELD TO THE PAGE WITH ARCHIVAL CANSON PHOTO-SQUARES
SIGNED, STAMPED AND NUMBERED BY THE ARTIST
FIRST EDITION OF 100 + 5 APs ; SPECIAL EDITION OF 10 (DETAILS HERE)
DESCRIPTION
1000 Miles is the culmination of a 100 day performance project Jason Jaworski created in collaboration with MOCAtv where every day he threw a dart at a map of Los Angeles, traced a 10 mile shape and proceeded to traverse its geometry. Dressed in a uniform of all white, each 10 mile journey was documented in a series of images, texts and line paintings. This publication is the second of 10 the artist made during the project. Each book represents 100 miles of the 1,000 mile journey.
A ten volume zine set, as well as a dual folio publication involving the project was put out by SSK Press in 2013 and 2014. The original zines themselves were featured in the 2015 edition of the Museum of Modern Art (MoMA) New Photography exhibition as part of Lele Saveri's The Newsstand installation, as well as being highlighted in the Skira Rizzoli book of the same name.
All editions of the book and series have sold out from SSK Press.
However, the dual folio edition is still available at Dashwood Books in limited quantities here.
ARTIST TEXT
It began slowly at first, a breath here / a foot forward there, and all of a sudden I was walking- further and farther away from that small one bedroom apartment I happened to happen upon nearly a year ago and for so long have been reluctant to call my home.
After the first few thousand steps a soft poignancy began to kick in, my mind wandering with every step as scenery new and old pushed by beside me at a slow dance's pace.
My eyes turned upward, catching the sky and its many clouds: different hues of blue and gray in far off corners and distances too far to reach but near enough to see; just last night I was under the same sky, colorless though blinking back its many eyes and lights. We were near a beach, some ocean. And overheard overhead, through sounds of laughter and "would you rather" were those waves rippling off their soft minuets ashore while other waves crashed solos through baritone liquid hitting cliffs with such a force that no hands and no cymbal can replicate or replace their current current. Leaves fell in the background, the slowest form of rain, and we pulled in closer, smiles linking up like a long line of string pulled round the lips of each person. Shadows passed by along with cars and their passengers, clocks and their hours.
We walked through conversation with laughter.
I returned home that night to find her sleeping. Curled up in that way she gets when waiting up for me. All I could do was think how lucky I was- how lucky I am.
The greatest people around me and so many more to meet and be near.
People say love is something that can only happen within the core of a person, that it is too much and too heavy an emotion to feel constantly, that it is crushing to be under its wings and drift for too long. I couldn't disagree more: I feel it is a muscle, one that is constantly flexed and forever growing, sometimes strained and tired, but never broken like a bone.
To think this thought while walking. To see that sky, blue and gray, and to think of that other colorless one from several hours previous. To move from moment to memory and to inhabit the space of that place where that woman in that room can make the smallest movements while sleeping and cause me to smile like no other- what is it?
Steps : moving forward : onward : on.
My thoughts are like that- small feet moving across dirt or pavement, through mud or other forms of earth. Each thought forgotten for a moment, much like each step. But to look back, whence remembered: cherished. Like being back home with your mother and she saying to you all those things you don't want to hear, though you smile at her anyway.
And
looking into your eyes,
she always smiles back.
* * *
- Jason Jaworski
2013