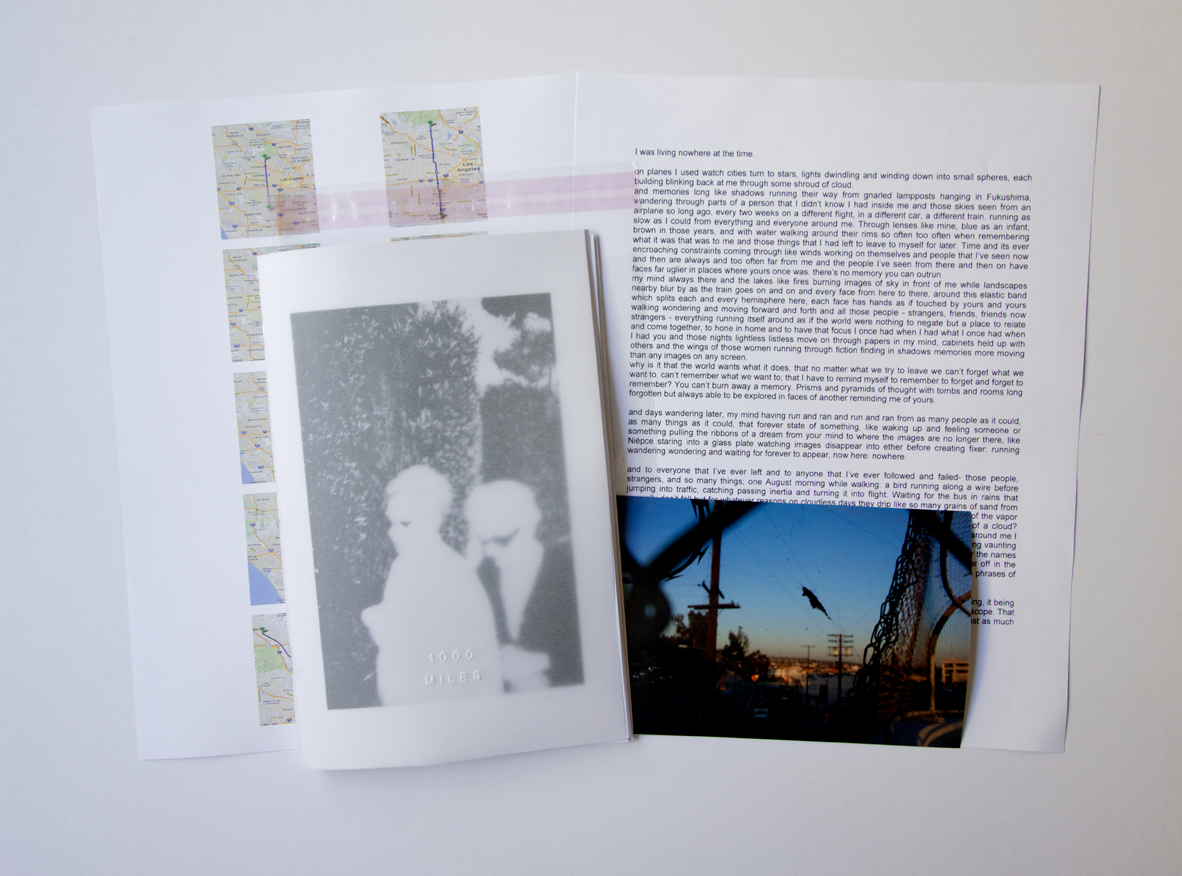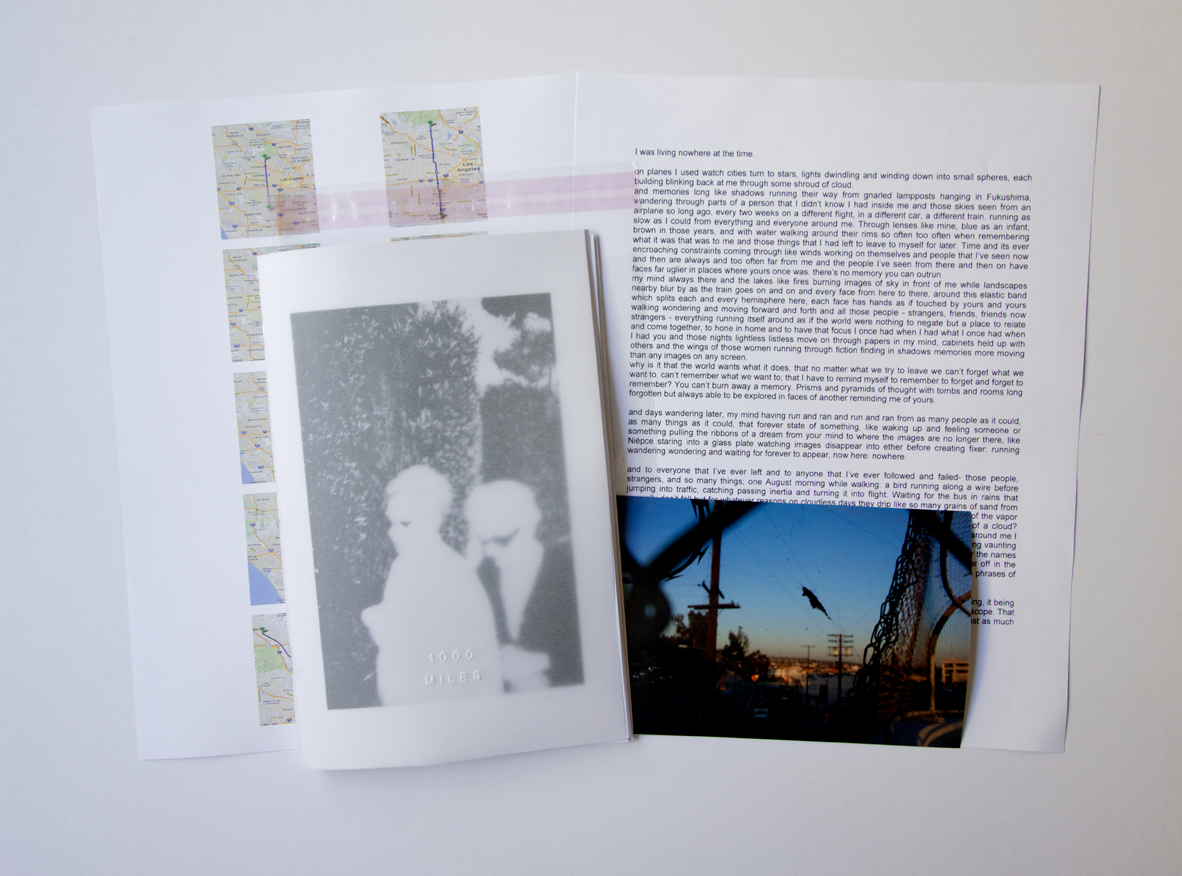 SPECIFICATIONS
5.5" X 8.5"
40 PAGES
TRIPLE-STAPLE BINDING
LASER PRINTED ON HIGH-QUALITY 32lb PREMIUM PAPER
TRANSLUCENT HEAVY-WEIGHT VELLUM COVER WITH EMBOSSED EMBELLISHMENTS ON FRONT AND BACK
24 IMAGE PHOTO-STORY EXCLUSIVE TO THIS ZINE
1 LOOSELEAF GATEFOLD INSERT WITH PROJECT TEXTWORK
1 LOOSELEAF GATEFOLD INSERT WITH ROUTE-MAPS EXCLUSIVE TO THIS ZINE PRINTED IN HIGH-QUALITY COLOR
1 FUJI NORITSU COLOR PRINT EXCLUSIVE TO THIS VOLUME PRINTED ON FUJICOLOR CRYSTAL ARCHIVE PAPER HELD TO THE PAGE WITH ARCHIVAL CANSON PHOTO-SQUARES
SIGNED, STAMPED AND NUMBERED BY THE ARTIST
FIRST EDITION OF 100 + 5 APs ; SPECIAL EDITION OF 10 (DETAILS HERE)
DESCRIPTION
1000 Miles is the culmination of a 100 day performance project Jason Jaworski created in collaboration with MOCAtv where every day he threw a dart at a map of Los Angeles, traced a 10 mile shape and proceeded to traverse its geometry. Dressed in a uniform of all white, each 10 mile journey was documented in a series of images, texts and line paintings. This publication is the sixth of 10 the artist made during the project. Each book represents 100 miles of the 1,000 mile journey.
A ten volume zine set, as well as a dual folio publication involving the project was put out by SSK Press in 2013 and 2014. The original zines themselves were featured in the 2015 edition of the Museum of Modern Art (MoMA) New Photography exhibition as part of Lele Saveri's The Newsstand installation, as well as being highlighted in the Skira Rizzoli book of the same name.
All editions of the book and series have sold out from SSK Press.
However, the dual folio edition is still available at Dashwood Books in limited quantities here.
ARTIST TEXT
I must not have been more than 10 years old.
She is standing by the window in that particular vermicular light that seems to happen only when the sun suffuses through glass during an autumn afternoon.
She turns, and in her hands I see a rivulet of blood, a small line moving slow and thick down her wrist. I begin to panic and soon see her face turn from the contemplative wonder of looking out the window to a now nervous fugue of emotion, beginning with her worried eyes and continuing throughout her face and lips' quiver.
My dad is upstairs. I can hear his shuffle coming down in a rush; her face begins to lighten, doing away with much of the worry. How the mere presence of a person can calm another. A bandage is procured and soon the wound is covered as she is brought from the kitchen to the living room. I get off my stool, and through a slow dawdle, make my way to the sink and its contents: glass, shards large and small, in various odd forms and phrases of geometry and the flecks and lakes of blood combining with those smaller droplets of sink water on the surface of its aluminum- an image which I would use to characterize much of my thought later down the line.
I am walking through Los Angeles, the line having been lengthened fifteen years from that memory. Dates are irrelevant, but it is March 31st, 2013. March 31st, 2013 that I remember that moment of the autumn afternoon: the light, her wrist, her look, my father's calming presence and the sink with its image of a shattered whole. It is fifteen years later and for whatever reasons, walking through LA at this specific moment in time, I have stumbled back upon that memory. Everything seems so simultaneously fogged and clear that I have begun to wonder whether it is real or not. __________ And what are those great intangibles, those lost aloft forgotten things- time, memory, the moment and its denouement- where do they come together/converge to form something real, something true, and at what point will their intangibility be felt as widely as everything else?
It has been over 500 miles since I last wrote in here. Using images instead of words or letters. Days pass like drops from some vast rain coming through and over, in rivers and beyond specks and flecks of time that have transpired and transposed their small rivulets of memory upon and over me. Every day walking- those small fleeting glances, those looks, and the encounters which make up the entirety of everything: a delta of memory.
I look outside my window, sky black, thinking of things that can and cannot move any further. What river is there here with me within me that seems to push and pull each moment? What shards of memory have there been that have moved on in and over to other ether? Color, like so many things, is an apparition- much like time. And time, that small wilting flower of an object intangible, the one constant in everyone's life- how it can seem to move so slow sometimes at its same second by second pace. Is there any measurement for the dead weight of time, for a slow second, a slow minute?
To see the world move by at < four miles per hour, to walk through it. Is it possible to no longer use the properly prescribed measurements we have been given for time (seconds, minutes, hours, days, weeks, months, years, decades) and instead use just distance? I saw her 60,000 miles ago instead of 3 years ago. Hold on for just a foot instead of a minute. Give me an inch instead of a second.
I am in my house now, 10 miles later, 10 miles since this morning, 500 miles since when I first started, and an unmeasured distance of time since that memory of fifteen years ago with the light, the window, my mother's wonder and the glass shattered in the sink.
A record turns in the background of my present moment, the simultaneously stunning and stuttering vibration of Glenn Gould's interpretation of Beethoven's Piano Sonata No. 23 Andante con moto, the last two words translated to "with motion" and the first a conjugated version of the present participle of Italian's andare, the verb one uses to describe the act of my continued and continuing motion: to go ; to walk.
__________ All of these thoughts occupying my mind as I look out the window in the same light my mother did years ago (although now in a different season), gripping her hand, looking through glass and cut by another sculpted form of it, blood running down her side, my father there, her face calming and my younger self staring into the sink so long ago, while the I that is I now puts on shoes, laces already tied, dressed in white, opening and closing the same door before leaving per andare, per camminare.
To go, to walk: each step moving forward like some second on a clock, its hands turning round and round, and my feet - their steps - moving forward further farther.
- Jason Jaworski
2013