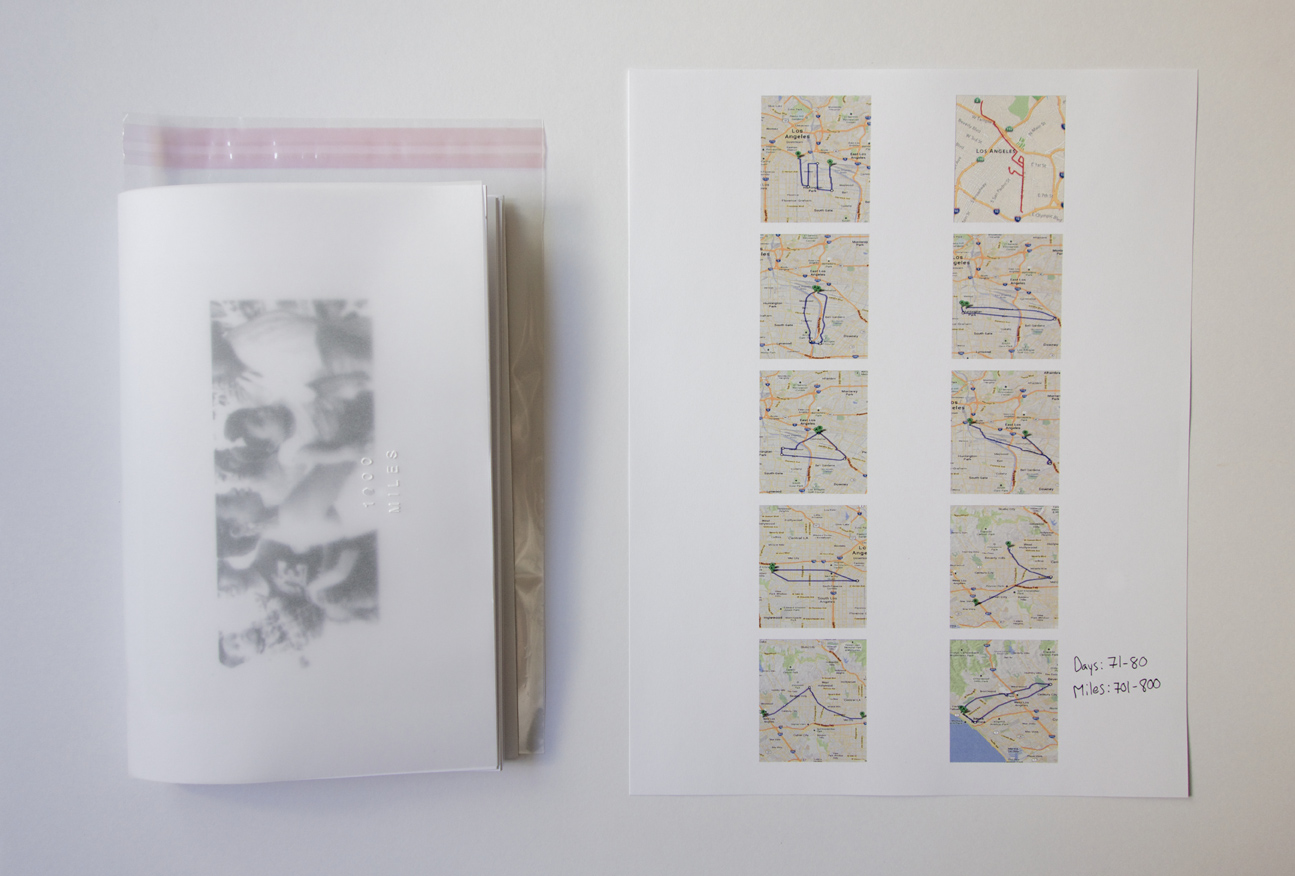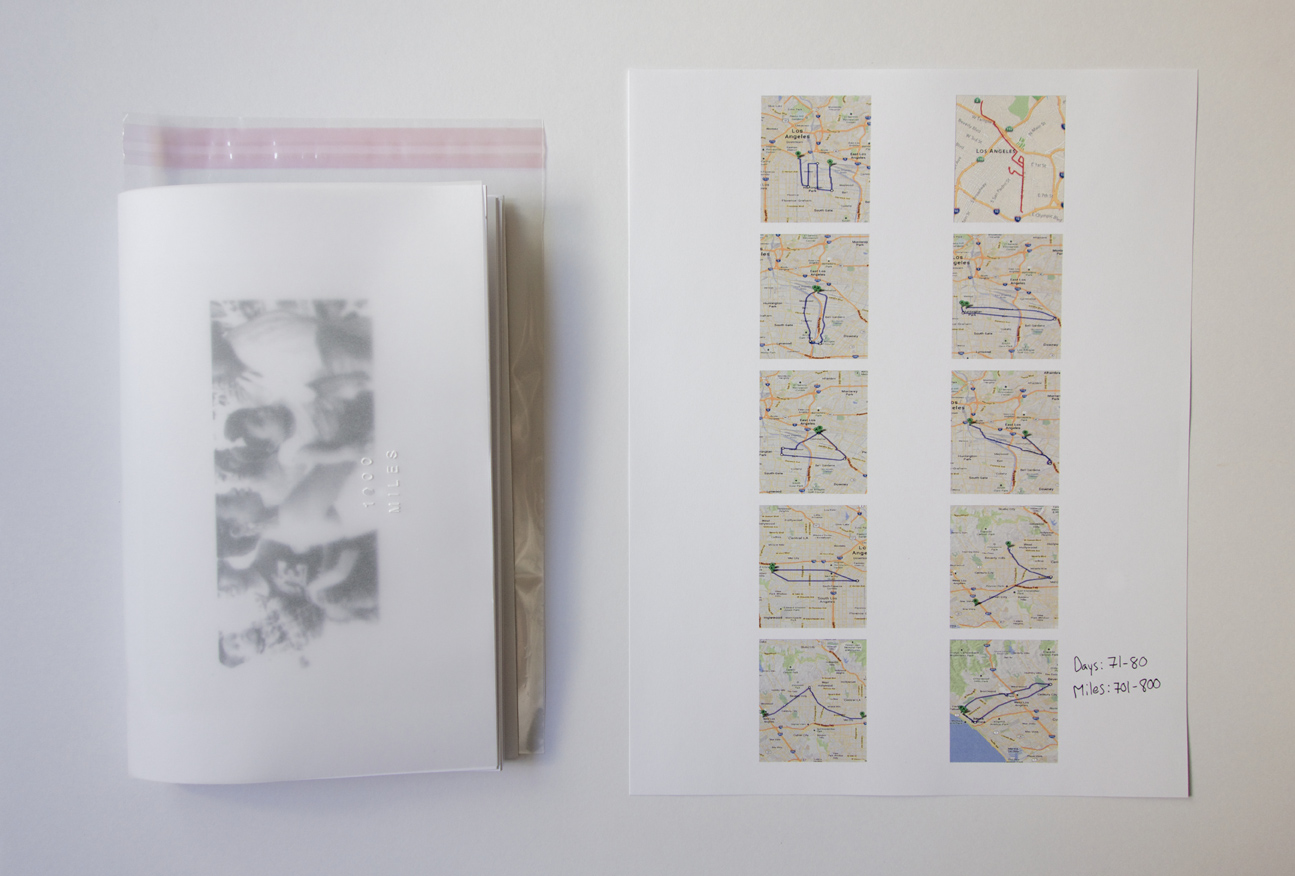 SPECIFICATIONS
5.5" X 8.5"
48 PAGES
TRIPLE-STAPLE BINDING
LASER PRINTED ON HIGH-QUALITY 32lb PREMIUM PAPER
TRANSLUCENT HEAVY-WEIGHT VELLUM COVER WITH EMBOSSED EMBELLISHMENTS ON FRONT AND BACK
27 IMAGE PHOTO-STORY EXCLUSIVE TO THIS ZINE
1 LOOSELEAF GATEFOLD INSERT WITH PROJECT TEXTWORK
1 LOOSELEAF GATEFOLD INSERT WITH ROUTE-MAPS EXCLUSIVE TO THIS ZINE PRINTED IN HIGH-QUALITY COLOR
1 FUJI NORITSU COLOR PRINT EXCLUSIVE TO THIS VOLUME PRINTED ON FUJICOLOR CRYSTAL ARCHIVE PAPER HELD TO THE PAGE WITH ARCHIVAL CANSON PHOTO-SQUARES
SIGNED, STAMPED AND NUMBERED BY THE ARTIST
FIRST EDITION OF 100 + 5 APs ; SPECIAL EDITION OF 10 (DETAILS HERE)
DESCRIPTION
1000 Miles is the culmination of a 100 day performance project Jason Jaworski created in collaboration with MOCAtv where every day he threw a dart at a map of Los Angeles, traced a 10 mile shape and proceeded to traverse its geometry. Dressed in a uniform of all white, each 10 mile journey was documented in a series of images, texts and line paintings. This publication is the eight of 10 the artist made during the project. Each book represents 100 miles of the 1,000 mile journey.
A ten volume zine set, as well as a dual folio publication involving the project was put out by SSK Press in 2013 and 2014. The original zines themselves were featured in the 2015 edition of the Museum of Modern Art (MoMA) New Photography exhibition as part of Lele Saveri's The Newsstand installation, as well as being highlighted in the Skira Rizzoli book of the same name.
All editions of the book and series have sold out from SSK Press.
However, the dual folio edition is still available at Dashwood Books in limited quantities here.
ARTIST TEXT
Looking out into the vast mirror of sky that the Los Angeles river affords one: soft inlets of light and reflected refraction bead in and out from each bowl of ripple slowly flowing and making their way down the concrete artery. What a perfect sculpture to represent a city: a concrete river of water whose contents range from being as vast and disparate as trash: paper, plastic, metallic and other cruder ruder forms, to various types of waste: bile, urine, feces, saliva, sweat, to those desiccated and worn out wonders of nature: fallen fronds of palm, bark from a tree eroded away in a fast water's movement, those thin strips of grass (zoysia, bermuda root, rhizome, rye, fescue, saw and other varietals) which break root and flow down in changing currents, and finally, to those small pebbles both rusticated and whittled down into sand, polished like rocks moving against each other in a tumbler, doing away with the denser volumes and characters of their character; each pebble, each grain of sand, each speck of silt flowing deeper and deeper and further and farther down this concrete river, water like fingers, index and thumb, parsing the objects into further diminution, like every inhabitant here on every street on every corner in every car in every cortège.
Writing these words I can only be brought back to previous moments in my mind, as though each consonant and line of punctuation were somehow a step further backwards memorially and all I'm seeing with each letter, each word, each sentence are images from a previous day, a previous week, month, year, decade. Friends blur by with each adjective, family with each noun; similes, multiples of metaphor and verbs each push back emotions: Los Feliz Boulevard, in her car and leaving; the moment I turned and saw her face for one final time before walking down that hill, jumping off that bridge and into that aforementioned river, this really happened ; South Gramercy Place, coming to a version of home that felt nothing like the word and seeing all my friends, all those people I had grown to love so much - Dave, Joe, Harry - and realizing that this life with them was of some other not fit for me ; Channing Street, waking up in a room with no windows, coming down a metallic volley of stairs in 18,000+ square feet of space and to be so alone as to feel the very space between my clothing and flesh and to hear my thoughts echo out onto Alameda as the trucks rolled by shaking the earth while the planes of this past passed by above; I'm on the roof now and can see them, I can fit them into the small spaces between my fingers and recognize the deep plumes of space between me and them: winged ships floating in a sky torn with sun, cloud, and an echo of a sunset I heard and saw reverberated throughout in colors so magnificent they made one understand why we have more than just one eye to take things in and remember them.
Sometimes this city can feel like a country within itself. Los Angeles is and has become known to me to be the most ungraspable, unknowable and entirely solitary place I've ever been to. Never have I felt more foreign than in this place. These sentences are not negatives though. Within its ungraspable, unknowable entity is a city of discovery, a place whose very structure invites obstacles to entertain if one is open to see them as entertainments. Example: traffic. The very idea of people stuck in metal boxes on rubber wheels which were designed to make our travel more efficient in both time and space- is it not comical? The large and vast globules of these metal cores colliding and/or stopping along these huge and immense concrete veins- the irony and the beauty of such a moment. Everyone so close to each other yet spread apart evenly in lanes divided by lines of white paint. The contradiction is an entertainment. At times I think we should change these highways, bi-ways and freeways into stadiums or perhaps some giant stage, an arena where we can watch this vast river of entertainment eternally. There should be seats along the highway that form themselves from four post meridiem to seven. Each person in this theater having the same three faces: surprise whence the lanes are moving, disappointment when they stop and that daydream wonderment that is so inherent here. A beautiful thing to be able to dream while surrounded by others in daylight or sunset. There must be a reason why the majority of traffic takes place during the time commonly referred to by the cinema as "magic hour." While I'm sure there have been persons previous who have thought of, explained and expounded upon this concept much more eloquently, for me it begins with that particular and peculiar Frenchman, Jacques Tati, whose magnificent film Playtime did so much to show me the wonderment of the mundane, the dance that is boredom and the carnival that is the carnal distance between two people who are next to each other but are unable to acknowledge it. Through intricate webs and ribbons of interaction, he was able to show, in that one film, the unseen strings and lines which somehow connect people- that everything and every moment had in it a kind of humor, a bit of melancholy, but above all, a warming gravitas- that things were real even when they are not seen. That happiness is a smile, love an embrace, and warmth the glow of a flame.
Since the beginning of this project I have wanted, humbly, to show in various forms, the comminuted substances of the intangible. The dust of nothing, the silt and specks of time, memory, thought, emotion and information which float around us and define and divide each and every one of us invisibly. This is the reason for the round and straight numbers which have defined the project: 10 miles a day for 100 days for a cumulative 1,000 miles. The 1's and 0's acting as a mirror to those atoms of the intangible we currently surround ourselves with: binary. Love (to take one example of an intangible)- is it not the one thing that everyone has a reaction to, either positive or negative? What is it that strains and pulls us toward these places within our person, like needles on pressed plastic who, through various forms of vibration, scream melody? Aren't we all the comminuted substances of our own humanity? Isn't that what the individual is, each person an atom in this vast global inhabitance of multi-valence and multi, macro and micro-culture? How beautifully naive to think that that thought, another intangible, could sway the current current.
- Jason Jaworski
2013